Air Force Conference Champions DEIA Strategies that Span 'The Vast Expanse of Air and Space'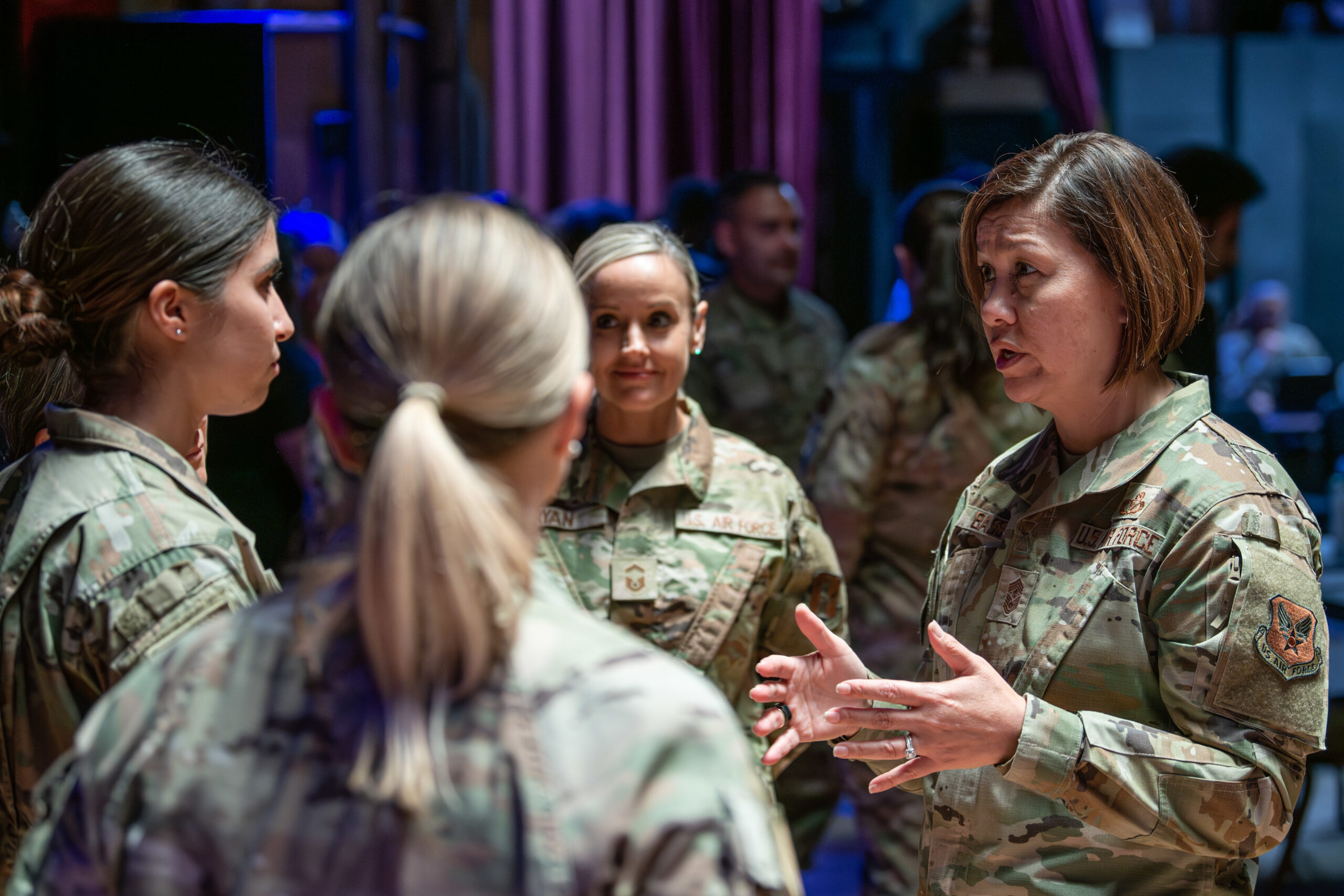 Chief Master Sgt. of the Air Force JoAnne S. Bass provides a mentoring session backstage during the Department of the Air Force DEIA Conference Sept. 18-20, 2023 at The George Washington University in Washington, D.C. This year's conference theme was "Respect, Recruit, Retain and Ready," which aimed to empower all Airmen and Guardians. Photo credit: U.S. Air Force photo by Capt. Shane Ellis
By Tammy Leytham
Community-driven strategies can apply to gatherings of any size, from the smallest workshops to the biggest expos. At its recent Diversity, Equity, Inclusion, and Accessibility conference, the Department of the Air Force tackled the concept of "community" on an entirely different scale.
"In the vast expanse of air and space, diverse perspectives and inclusive strategies are paramount," said Secretary of the Air Force Diversity and Inclusion Director Marianne Malizia. "Our mission revolves around nurturing a culture where everyone feels valued and knows they belong. Their voices, ideas and insights aren't merely heard — they're actively pursued to enhance our mission."
Key leaders came together at The George Washington University in Washington, D.C., to explore the theme "Respect, Recruit, Retain and Ready."
Speakers sought to empower all Airmen and Guardians, emphasizing the need for inclusive leadership, trust, and belonging amid an evolving battlefield. From the opening keynote address by Secretary of the Air Force Frank Kendall to the closing ceremony, the conference underscored the pivotal roles of respect and readiness.
"You win when you have the strongest team on the field, and you win when you have a team where everybody can trust everybody else and work together as a team to achieve a common goal," said Kendall.
Throughout the conference, speakers highlighted inclusion strategies that could be applied to any number of goals, from strengthening teams to cultivating belonging among event-goers:
1. Ensure everyone feels valued.
Mission success is inevitable when leaders foster a sense of worth in every team member, said Kendall.
"You build that by making sure everybody feels valued," he said. "You build it by making sure everybody gets to work to their full potential, everybody is treated fairly and equally so they want to be on the team, and you're invested in them and their level of capability."
2. Lead with empathy.
Kendall said it's important that leaders understand and have empathy for the people they lead. "If you start to be more inclusive and bring people into the conversation, you're going to get better ideas and better solutions," he said.
3. Formalize a plan.
Air Force diversity and inclusion leaders also unveiled the department's newly minted Diversity, Equity, Inclusion and Accessibility Strategic Plan during the conference. The plan was formalized just hours before the event started.
Col. Jenise Carroll, Secretary of the Air Force Diversity and Inclusion deputy director, addressed stakeholders on its value and importance.
"By respecting and valuing the unique perspectives of every individual, we lay the foundation for recruiting a diverse, dynamic workforce," Carroll said. "This, in turn, ensures we retain world-class talent that's always ready to meet and overcome any challenge."
4. Build bridges one stone at a time.
The conference included a Q&A on recruitment and retention with Malizia and Kristyn Jones, Assistant Secretary of the Air Force for Financial Management and Comptroller.
"We need you. We need all of you. We need the talents of our great American population in order to be ready for the future, and that is where we're required to think about retention and recruitment," Jones said. "Everything that you all are doing here is breaking down those barriers."
She noted that the department still has a way to go to be able to get mentoring and sponsorship programs in place. However, she added that "even without a program, people can each out to somebody who doesn't look just like you – they have a different background, different race, different gender – and you're taking the time to get to know them and able to represent them when they're not in the room."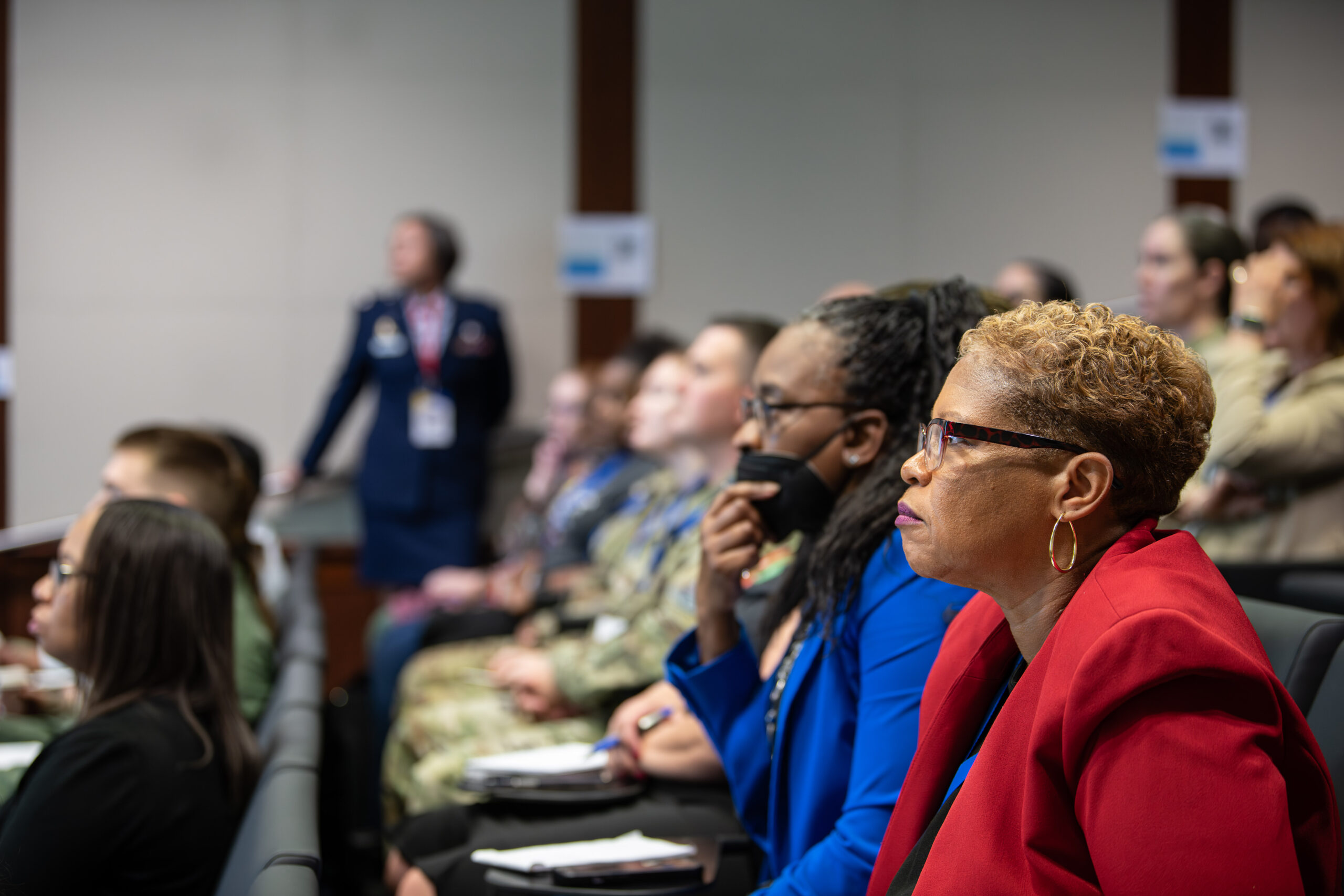 Conference attendees participate in a breakout session during the Department of the Air Force Diversity, Equity, Inclusion and Accessibility Conference Sept. 18-20, 2023 at The George Washington University in Washington, D.C. This year's conference theme, "Respect, Recruit, Retain and Ready," aimed to empower all Airmen and Guardians. SAF DI's Mission and Strategy evolve around the understanding that the strength of the DAF doesn't just lie in our technological prowess or advanced weaponry, but in Airmen and Guardians who volunteer to serve. Photo credit: U.S. Air Force photo by Capt. Shane Ellis
The closing session had Chief Master Sgt. of the Air Force JoAnne S. Bass address questions from Airmen and Guardians, again emphasizing unity and the shared responsibility to build an inclusive environment.
"These aren't women challenges, male challenges, Asian-American challenges, African American challenges, or LGBTQ+ challenges," she said. "These are people challenges, and all of us have a responsibility to create an environment where every single one of us can thrive."